We are the best borewell service providers in Chennai. We deliver reasonable borewell drilling services that covers a wide-range of both the industrial and the domestic client base. The services we do are borewell drilling, borewell cleaning services, plumbing, repair services, rainwater harvesting, and soil testing services.
Samy Borewell are professionals in borewell drilling services in Chennai with the most up-to-date borewell technology which is greatly in demand in the borewell industry. We provide various drilling services as required by the customer. Vertical drilling is most common type of drilling process done for most domestical and industrial purposes. There are many layers to our successful Dewatering Project. When setting a developing platform, several factors are taken into account, and one of the most successful strategies provides efficient groundwater control prior to its positioning. In the construction sector this process is termed as Dewatering.
Manual or hand drilling services are also offered. This includes two hand drilling methods-single jacking and then double jacking. A single cutter works both the hand and the bit hammer with one jacking. A cutter catches the bit in double jacking, and one or two drillers strike the bit using huge sledge hammers. Double jacking is perhaps more efficient as well as it will break out huge stone ledges except it is more risky for the bit holding cutter. When drilling are performed using the fluid power with maximum force they are referred as super fast hydraulic drilling technique.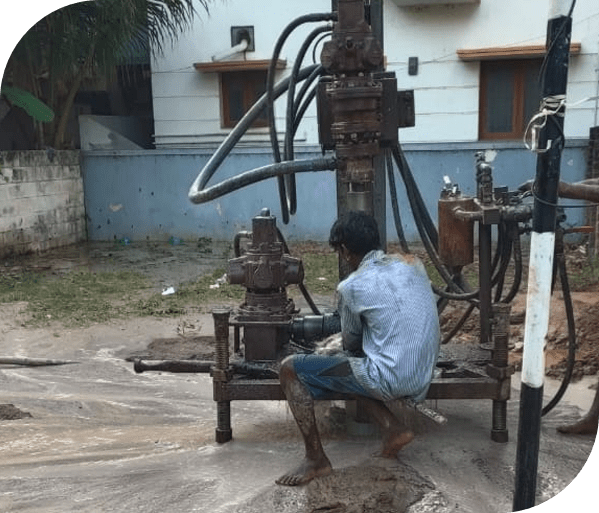 Water well drilling services using mechanical techniques are fast and easy way of bringing out water from ground. For the best drilling services contact Samy borewell services in Chennai. Providing authentic deep drilling services to satisfy different needs of commercial, industrial, municipal, infrastructure and agricultural applications. Another method is slow while drilling because it is operated manually by the support of a drill mast that is either assisted or powered by diesel. Typically, drilling a well anywhere the structure is collapsible is applied, and fixing the casing. Quick rig must now re-set into the target and drilled downwards to possible depth. This slow process is generally referred as slow rig drilling service.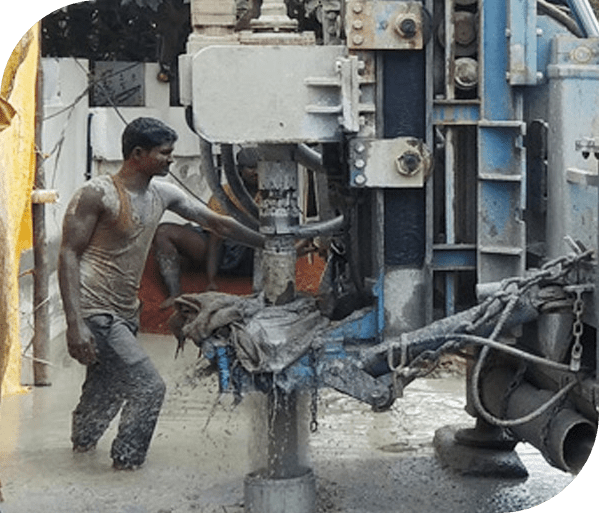 Exceptional leading professional borewell cleaning services in Chennai, Samy Borewells has attracted many customers from everywhere. Borewells require daily maintenance and cleaning to make sure adequate water flow and safe drinking.
Water quality is checked for any bacteria, as well as for total coliform bacteria and escherichia coli bacteria, that are present.
High-pressure specialized air compressors are being used inside borewell to clean any wastes or dust.
Scientifically verified borewell cleaning machinery is used to ensure the water utilized in drinking and other purposes is safe.
Testing of water used in cooking, watering plants , drinking, and other uses is performed.
Our Borewell cleaning services are provided at affordable prices so we're at your disposal 24/7. Contact Samy Borewells cleaning service for reliable and sustainable solutions if you are having any borewell problems.
The organization suggests the most appropriate engines and push based on the depth of the bore and the amount of h2o source. Also the machineries used are fit by our skilled technicians to take out h2o. only a small amount of 800ltr h2o will be obtained if the wrong engine is fit instead of 3000ltr h2o per hour. There are chances for engines to burn if you fit the hollywood engine in the lower level h2o source.
The panel board and the engine switches and pushes get damaged because of incorrect electrical power measurements. The company, with the support of highly trained technicians, stands first in recommending suitable engines and often pushes to fit such machines.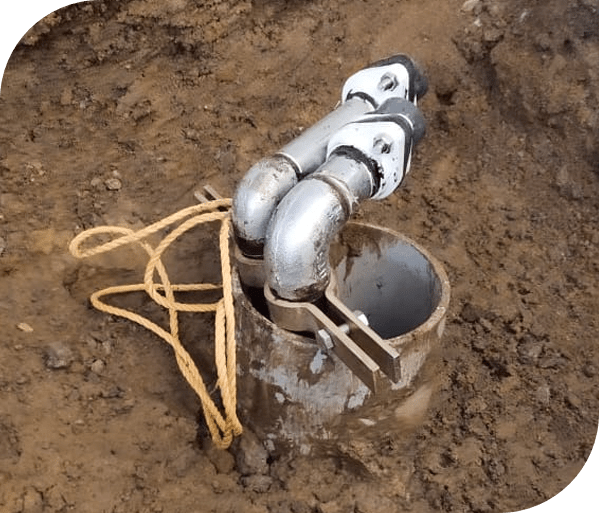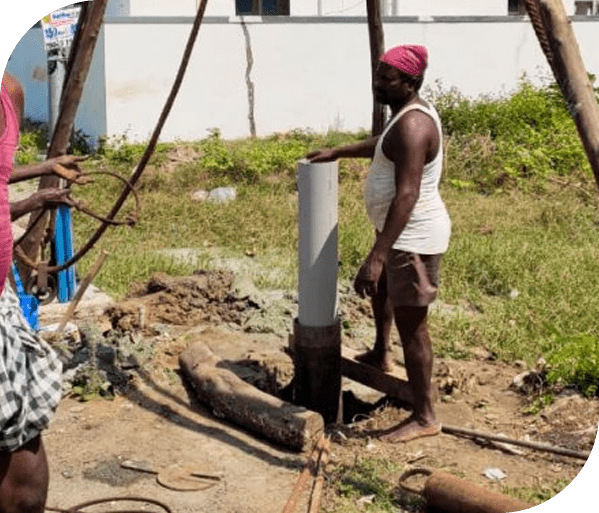 Increase your level of water with Samy Borewells for the best borewell repair services. Any issue in borewell? Connect with our team of qualified engineers who can use advanced borewell technology to solve any borewell-related issues, offering quicker, more functional solutions. This would not only improve the borewell 's efficiency but also give the borewell longevity.
Rainwater Harvesting Methods
Samy Borewells in Chennai provides Rain Water Harvesting services that are affordable and easy, since groundwater is a very important commodity to us. Water is extracted for domestic , industrial and agricultural use from wells. Groundwater management is very important as it flows from soil, so it can take several years to remove quickly drained water. Hence, in areas where groundwater is heavily used, precautions should be taken to ensure that no excess water is collected in one year beyond the amount replenished by natural processes. The aquifers, that is, ground water bodies should be recharged in any way possible to prevent reduction of groundwater level. Rain Water Harvesting is desperately needed because it is the primary source of groundwater. The various methods are available for rain water harvesting that are:
Rain water harvesting through percolation pit method.
Rain water harvesting through broken brick method.
Rain water harvesting through well cum canal cum percolation pit method.
Rain water harvesting through open wells.
Rain water harvesting through defunct bore well method.
Rain water harvesting through ponds.
Rain water harvesting through ditch and furrow storage.
Rain water harvesting through recharge wells.
Rain water harvesting through service well cum recharge well method.
The testing of soil is a soil sample analysis to measure nutrient and polluted content , composition, as well as other properties like acidity or pH level. A soil test recognizes fertility, or the soil's expected potential growth that shows nutritional deficiency, possible toxicity from surplus fertility, and inhibitions from unnecessary trace minerals. The analysis is used to simulate the assimilation of minerals by root function.
Our service is very well equipped with laboratory for soil testing that allows us to deliver best soil testing services with very cost-effective prices for total customer satisfaction. Samy Borewells provides the most consistent performance with a large variety of physical and diagnostic soil testing and analysis.